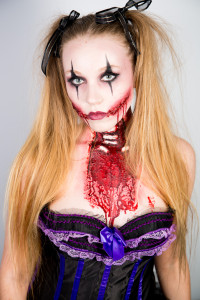 This module will introduce you to the SFX makeup skills and techniques required to work in the theatre, stage and film industry in this comprehensive twelve week evening course with one of our expert trainers.
Learn how to age your talent using latex for the theatre, television or film industry. You will also learn how to design and apply prosthetic pieces, simulate injuries and casualties and make and apply bald caps for various media avenues. This is an incredibly creative module which is packed with many different elements of this exciting field!
Below is an outline of what our course covers.
Special Effects
Introduction
Ageing with latex
Bruising, Cuts and Open Wounds
Broken noses and Stitches
Tears and Sweat
Brow Blocking
Bullet holes and Exit wounds
Burns
Beard stubble and Beards
Making and Applying Bald Caps
Cost
$2500
Duration
The course runs for 12 weeks, two evenings per week (6pm – 9pm).
Prerequisites
Please bring your own brush set to use. Alternatively, a tools of the trade kit is also available for purchase for $395 (valued at $744).
You will also need to purchase a SFX Kit for the course, all basic makeup is supplied by the SLA Academy.
Next Course Dates
We are currently taking expressions of interest for this course for 2022.