Next course commences on Saturday 24th April 2021!
Payment plans are available! Please enquire for further details on 1300 770 428 or via info@slaacademy.com.au.
Fundamentals to advanced techniques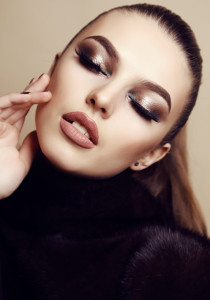 The Principles of Makeup Design Course is an 8-week (Saturday or Sunday) course that has been designed to teach the core fundamental components of makeup design and application. This course can serve as a refresher for somebody already in the beauty industry or is a perfect beginners course for any students who are interested in working in the makeup industry.
The key learning objectives covered in the Principles of Makeup Design Course include:
Creating the perfect complexion.
Colour theory and application.
Camouflaging and correcting.
Highlighting and contouring.
Makeup for photography.
Designing and applying a day/evening/bridal/mature makeup.
Please find below an outline of the course content for the Principles of Makeup Design Course:
Materials, tools and equipment for professional make-up
Makeup brushes/care and hygiene
Definition of skin colours- complexion colours, textures and application
Colour corrective make-up, foundations, concealer and powders
Highlighting and shading techniques
Application of blushers
Colour theory and what colours do
Effects of light on colour
Skin Care and preparation
Eye shapes and eye liners
Blending eyeshadows
Eyebrow shaping
Application of false lashes
Corrective techniques for lips and product textures
Remedial camouflage
Smokey eyes
Day makeup
Evening makeup
Mature makeup
Colour photography
Black and White photography
Completing a face chart
A Professional Photoshoot is included in the course fee! This is scheduled for the last lesson of the course.
Cost
$1595 + Pro Makeup kit + Brush set
Duration
This course is run over 48 hours, one day (Saturday or Sunday) per weekend for eight weeks.
Prerequisites
A Professional Makeup Kit must be purchased for this course. Please enquire for full kit details.
16 piece Professional Brush Set
You must bring in face models for your afternoon practical sessions in weeks 3-7 (subject to current COVID restrictions). You must also select 2 models for your final professional photo shoot on your last class.
No prior makeup training is required. Beginners are welcome!
Upcoming dates
To make an enquiry please follow this link https://slaacademy.com.au/contact-us/
April

2021

Mon
Tue
Wed
Thu
Fri
Sat
Sun