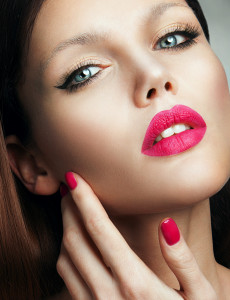 The Makeup Fundamentals Workshop is a two day intensive course that has been developed to serve as a refresher course for salon and spa owners and staff, in order to fine tune their artistry skills.
The key learning objectives covered in the Makeup Fundamentals Workshop include:
Creating the perfect complexion
Selecting the best colour combinations for your client
Tips and techniques for photographic preparation
Designing and applying a day/evening makeup
Please find below a more detailed outline of the Makeup Fundamentals Workshop:
Day 1
Session 1 – The Basics
Hygiene, Health and Grooming
Tools of Your Trade
Facial Analysis
Foundation Matching
Session 2 – The Face
Facial Dimensions
Highlighting and Contouring
Colour Theory
Eye Shaping Techniques
Face Charting
Preparation and Day/Evening Makeup
Day 2
Session 1 – Photographic and Fashion 
Photography & Lighting
Photographic Makeup
Session 2 – Special Occasion and Evening Makeup 
Special Occasion Makeup
Preparation and Evening Makeup
False Lash Application
Cost
$495
Duration
This course is run for 12 hours over two Sundays or a Sunday/Monday.  This course is scheduled every two months.
Prerequisites
Please bring your own brush set to use.  Alternatively a tools of the trade kit is also available for purchase for $395 (valued at $744).
Upcoming Dates
M
T
W
T
F
S
S

1

2

3

4

5

6

7

8

9

10

11

12

13

14

15

16

17

18

19

20

21

22

23

24

25

26

27

28

29

30

31